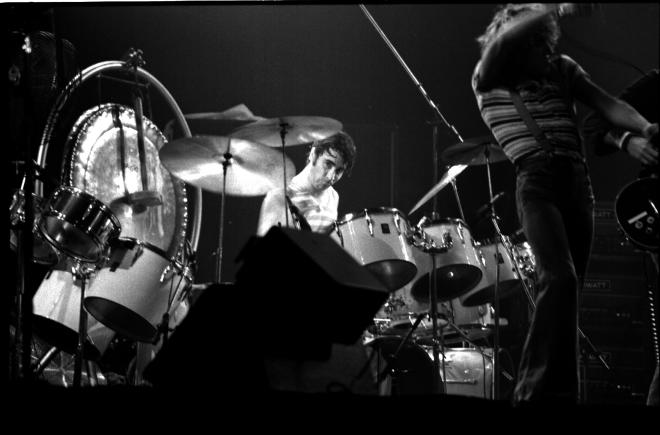 Keith Moon Net Worth is

$70 Million
Keith Moon Biography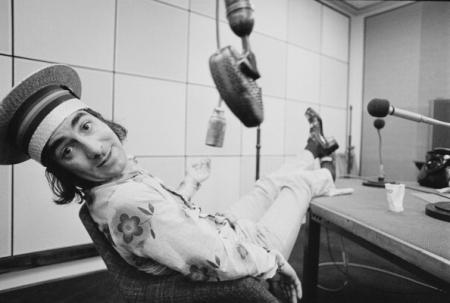 He was also keen on flushing explosives down toilets. Keith Moon began his enthusiasm in music when he was youthful as he required drum lessons from modern drummers
Known for movies
Quick Facts
| | |
| --- | --- |
| Full Name | Keith Moon |
| Net Worth | $70 Million |
| Date Of Birth | August 23, 1946 |
| Died | September 7, 1978, Westminster, United Kingdom |
| Height | 1.75 m |
| Profession | Record producer, Actor, Model, Composer, Songwriter, Drummer |
| Nationality | British |
| Spouse | Kim McLagan |
| Children | Amanda Jane Moon DeWolf |
| Parents | Kathleen Winifred Moon, Alfred Charles Moon |
| Siblings | Linda Moon, Lesley Moon |
| Awards | NME Award for Best Drummer |
| Music Groups | The Who, Plastic Ono Band |
| Movies | The Kids Are Alright, Sextette, Tommy, That'll Be the Day, 200 Motels, The Who Special Edition EP |

Interesting Facts
| # | Fact |
| --- | --- |
| 1 | Friend and partner in practical jokes with Vivian Stanshall. |
| 2 | Very good friends with Oliver Reed. |
| 3 | The plaque at Golders Green, where he was cremated, and then his ashes scattered in in the Gardens of Remembrance, reads: Keith Moon 'Who' drummer. 1946 - 1978 "There is no substitute". |
| 4 | He has a Blue Plaque at the old Marquee Club, at 90 Wardour Street, London, to celebrate his first show's with The Who, it reads: Keith Moon 1946 - 1978. Legendary rock drummer with 'The Who'. Performed here at the site of the Marquee Club in the 1960s. |
| 5 | To be honoured with a 'blue plaque' at London's Marquee Club at 90 Wardour Street, Soho on 9th March 2009 by the Heritage Foundation. Rejecting the application by English Heritage for not being truly 'outstanding', English Heritage explained: "Is he a great drummer? Well you'd have to wait until Ringo Starr is dead and Phil Collins is dead and all these other great rock drummers until you can make that kind of decision... We decided that bad behaviour and overdosing on various substances wasn't a sufficient qualification to get a blue plaque.". |
| 6 | Was very good friends with Dallas star Larry Hagman and singer Harry Nilsson. |
| 7 | Once drove his Lincoln Continental into a hotel swimming pool, knocking out one of his teeth in the process. |
| 8 | In 1973 he collapsed onstage at the San Francisco Cow Palace after having taken a huge amount of animal tranquilizer. |
| 9 | Moon accidentally ran over his driver, Neil Boland on January 4, 1970. Moon, his wife, Kim and Larry "Legs" Smith (of the Bonzo Dog Doo-Dah Band) left a pub where they were followed by a group of Skinheads who proceeded to pound on the car after Moon and his group got in it. Neil exited the car to stop the fracas and the car continued to move. Moon, from the back seat, tried to steer the car out of harm's way and inadvertently ran over Boland. Boland later died of his injuries. (Described in "Dear Boy: The Life of Keith Moon" by Tony Fletcher.) |
| 10 | Although he owned dozens of fast, rare and expensive cars, he also owned an old, beat-up tractor that he used to drive to his local pub. |
| 11 | Did not like school and was not a good student. A teacher once wrote in his report card, "Retarded artistically, idiotic in other respects". |
| 12 | His ex-wife, Kim Moon McLagan, was killed in a car accident in August 2006 in Texas. |
| 13 | His daughter, Mandy, is happily married and living with her husband and two daughters in California. |
| 14 | Son of Kathleen Moon. |
| 15 | He took his role as Uncle Ernie in the film version of Tommy (1975) very seriously, and was nervous about playing the part. He also met one of his great drinking buddies while making the film: Oliver Reed. |
| 16 | Was a huge fan of The Beach Boys and reportedly used to listen to their 1964 album "Shut Down Volume 2" constantly for inspiration, before joining The Who. One of the last songs he sung in the studio was a cover of their 1966 #1 hit "Barbara Ann". He also produced a solo album that had a cover of their 1964 hit, 'Don't Worry Baby'. |
| 17 | Was nicknamed "Nobby" by his father, Arthur. Arthur Moon died suddenly of a heart attack in 1974 at age 53. |
| 18 | His public image was so pronounced that the Muppet character, Animal, whose credo is "Drums. Women. Food." was inspired by Moon. |
| 19 | Was close friends with singer Marc Bolan and Monty Python star Graham Chapman. |
| 20 | Left school at age 14, after discovering the drums. |
| 21 | Learned to play drums at age 14. |
| 22 | The first instrument he played was the bugle. |
| 23 | Was originally going to play The Odd Job Man in Graham Chapman's The Odd Job (1978), but had to drop out because of scheduling conflicts with The Who, and his drinking problem. |
| 24 | Was a front-row guest at one of The Monkees's London concerts; countered the fans' cries of "We want The Monkees!" by bellowing "We want The Who!" as loudly as anyone. |
| 25 | Was ejected from a hotel suite after a night of nailing and strapping all the furniture to the ceiling. |
| 26 | Shared a house in Los Angeles with John Lennon and May Pang, Ringo Starr, and Harry Nilsson in 1974; it was the same place where Bobby Kennedy and Marilyn Monroe had met for trysts in the early 1960s. They called it their "rock-n-roll rest home", and Moon was fond of coming down to breakfast wearing a trenchcoat slit up the back... and nothing underneath. (Klaus Voormann also lived there with his girlfriend, but steered clear of the other men's antics.) |
| 27 | Daughter with his then wife Kim: Amanda Jane ("Mandy"), born on July 12, 1966. |
| 28 | In reality, Moon and John Entwistle. discussed leaving The Who, going as far to name the band Lead Zeppelin based on the English saying "going over like a lead zeppelin" as Americans say "going over like a lead balloon". Entwistle went as far as to do drawings of the first album cover (the Hindenberg in flames) and they discussed the idea with their then driver Richard Cole. Later when this didn't materialize, and with Cole leaving their employ and going to work with Jimmy Page, the name was indeed used by Page to name the New Yardbirds. Both Moon and Entwistle subsequently took credit for the name. |
| 29 | Packed flash powder in his bass drum during an appearance on the The Smothers Brothers Comedy Hour (1967), causing it to explode. This not only caused Pete Townshend's hair to catch fire and damaged his hearing, but Moon was injured as well. His prime purpose in this prank was to upstage Smothers, and when he appeared right in front of the camera whilst a joke was being cracked, before collapsing, his attempts were successful. Bette Davis was standing backstage during the explosion and fainted. |
| 30 | Was allegedly responsible for The Who being banned from every Holiday Inn in the US for life after creating a ruckus while celebrating his 20th birthday at one of the chain's hotels in the Flint, MI, though actually they continued to use Holiday Inns for much of their career. |
| 31 | On the cover of the last The Who album recorded with Moon, he is seated in chair upon which the words "Not to Be Taken Away" are stenciled. Moon died within weeks of the album's release. |
| 32 | Roger Daltrey's song "Under A Raging Moon" was a tribute to him. The recording featured the work of 40 drummers, including Ringo Starr and his son Zak Starkey. |
| 33 | Elected to the Rock and Roll Hall of Fame (as a member of The Who) in 1990. |
| 34 | Was the youngest member of The Who. |
| 35 | The Beach Boys and Jan & Dean were his favorite musicians. |
| 36 | Joined The Who in late 1964. Prior to that, he played drums for a cover band called The Beachcombers. |
| 37 | Godfather of Zak Starkey. Replaced by Kenney Jones, ex-Face/Small Face, who was replaced by Zak Starkey. |
| 38 | Dedicatee of the published script of Monty Python's Life of Brian (1979). |
| 39 | Ashes scattered at Golders Green Crematorium, London, England in section 3P. |
| 40 | Was the drummer with The Who along with Roger Daltrey, Pete Townshend and John Entwistle. |

Trademarks
| # | Trademark |
| --- | --- |
| 1 | Bowl Haircut |
| 2 | Extremely destructive personality even off-stage, often at the expense of hotel rooms |
| 3 | Wild drum playing and subsequent destruction of his kit when performing live. |

Quotes
#
Quote
1
I'm not tempted to quit now like I was when we where having our internal troubles. I'd be mad to, wouldn't I? Said in an interview concerning him, possibly, leaving The Who October 1966.
2
They're always saying I'm a capitalistic pig. I suppose I am. But ... it's good for my drumming.
3
At heart I cannot accept that I am a well-known rock 'n' roll star and one of the greatest drummers in the world. I can't believe that person on the television is really me. The Keith Moon the public knows is a myth, even if I have created him. The real me is the person who sits at home having a cup of tea with his old lady, Annette. The hotel smashing is one way I get relief from the public image. I have no temper. I do it in a spirit of amusment [sic] rather than anger. When I've done damage to a friend's house I come back sheepishly the next day and offer to put things right, which means I'm willing to foot the bill.
4
You know, if I ever stopped laughing inside and quit believing in people then I would get very hurt and totally disillusioned. You have to treat everything - even if at that time it seems like a right bummer

as a good experience. There are things that have happened to me that

have made me wonder where I went wrong . . . things of a personal nature, like my relationship with my wife. They're the things that make you think most, because one is far more deeply involved.
5
I love to see people laugh and I love it more if I can make them laugh. I think this comes across in my drumming. I watch a lot of The Marx Brothers' movies and they were doing the same sort of things. You've seen the way [Chico Marx] plays the piano with that certain flair . . . adding something to the music while taking liberties within his own capabilities? It's a question of taking somebody else's music but not sending it up in a derogative sense, just injecting your own personality. [Pete Townshend]'s music allows me to do this.

Pictures

Filmography
Actor
| Title | Year | Status | Character |
| --- | --- | --- | --- |
| The Who: At Kilburn 1977 | 2009 | Video | Percussionist |
| Sextette | 1978 | | Dress Designer |
| Tommy | 1975 | | Uncle Ernie |
| Sonic Boom | 1974 | Short | Mad Doctor Cherman |
| Stardust | 1974 | | J.D. Clover |
| Harry and Ringo's Night Out Promo Reel | 1974 | Short | Keith |
| Son of Dracula | 1974 | | Musician: The Count Downes |
| That'll Be the Day | 1973 | | J.D. Clover |
| 200 Motels | 1971 | | The Hot Nun |
Soundtrack
| Title | Year | Status | Character |
| --- | --- | --- | --- |
| Amazing Journey: The Story of The Who | 2007 | Documentary writer: "Cobwebs and Strange", "The Ox", "Tommy's Holiday Camp" | |
| The Who's Tommy, the Amazing Journey | 1993 | Documentary writer: "Tommy's Holiday Camp" | |
| The Kids Are Alright | 1979 | Documentary writer: "Cobwebs and Strange" | |
| All This and World War II | 1976 | Documentary performer: "When I'm Sixty Four" | |
| Tommy | 1975 | performer: "Christmas", "Fiddle About", "Tommy's Holiday Camp" - uncredited / writer: "Bernie's Holiday Camp", "Tommy's Holiday Camp" - uncredited | |
| Rape Victims | 1975 | writer: "Overture" - uncredited | |
Music Department
| Title | Year | Status | Character |
| --- | --- | --- | --- |
| Tommy | 1975 | musician | |
| That'll Be the Day | 1973 | music supervisor | |
Writer
| Title | Year | Status | Character |
| --- | --- | --- | --- |
| Tommy | 1975 | additional material | |
Composer
| Title | Year | Status | Character |
| --- | --- | --- | --- |
| The Kids Are Alright | 1979 | Documentary as The Who | |
Producer
| Title | Year | Status | Character |
| --- | --- | --- | --- |
| Quadrophenia | 1979 | executive producer | |
Thanks
| Title | Year | Status | Character |
| --- | --- | --- | --- |
| Mayor of the Sunset Strip | 2003 | Documentary we would like to thank: with love | |
| Life of Brian | 1979 | published edition of the screenplay dedicated to | |
Self
| Title | Year | Status | Character |
| --- | --- | --- | --- |
| The Who Live in Texas '75 | 2012 | Video | Himself (drums & percussion) |
| The Who at the London Coliseum 1969 | 2009 | Video | Himself (Drums) |
| The Who Weekend | 2002 | Video | Himself (The Who) |
| My Generation | 2000 | Documentary | Himself (The Who) |
| Listening to You: The Who at the Isle of Wight 1970 | 1998 | TV Movie documentary | Himself (The Who) |
| Message to Love: The Isle of Wight Festival | 1997 | Documentary | Himself (The Who) |
| The Rolling Stones Rock and Roll Circus | 1996 | Documentary | Himself - The Who |
| The History of Rock 'n' Roll | 1995 | TV Series documentary | Himself (The Who) |
| Woodstock Diary | 1994 | TV Movie documentary | Himself (as The Who) |
| The Who's Tommy, the Amazing Journey | 1993 | Documentary | Himself (The Who) |
| MTV Rocumentary: The Story of the Who | 1988 | TV Special documentary | Himself (The Who) |
| The Who: Who's Better Who's Best | 1988 | Documentary | Himself |
| Roger Daltrey | 1983 | TV Special | Himself |
| The Kids Are Alright | 1979 | Documentary | Himself (The Who) |
| Rolling Stone Magazine: The 10th Anniversary | 1977 | TV Movie | Himself |
| All You Need Is Love | 1977 | TV Series documentary | Himself |
| The 4th Annual American Music Awards | 1977 | TV Special | Himself |
| The Hoyt Axton Country Western Boogie Woogie Gospel Rock and Roll Show | 1975 | TV Movie | Himself / Singer |
| La fête aujourd'hui, la fête demain | 1974 | Documentary | Himself (The Who) |
| Radio Wonderful | 1974 | Documentary short | Himself |
| Russell Harty Plus | 1973 | TV Series | Himself / Himself - The Who |
| In Concert | 1972 | TV Series | Himself - Host |
| 4-3-2-1 Hot and Sweet | 1970 | TV Series | Himself - Musician |
| Woodstock | 1970 | Documentary | Himself - The Who (uncredited) |
| Schlag auf Schlager | 1970 | TV Movie | Himself (as The Who) |
| Beat-Club | 1967-1969 | TV Series | Himself - Musician |
| This Is Tom Jones | 1969 | TV Series documentary | Himself |
| Monterey Pop | 1968 | Documentary | Performers (as The Who) |
| Time for Blackburn | 1968 | TV Series | Himself |
| Melodien einer Stadt | 1968 | TV Series | Himself - Musician |
| The Smothers Brothers Comedy Hour | 1967 | TV Series | Himself |
| Our World | 1967 | TV Movie documentary | Himself (United Kingdom segment) |
| Ready, Steady, Go! | 1965-1966 | TV Series | Himself |
| Popside | 1966 | TV Series | Himself |
| Carousella | 1966 | Documentary short | Himself (as The Who) |
| Take Thirty | 1965 | TV Series | Himself |
| Thank Your Lucky Stars | 1965 | TV Series | Himself |
Archive Footage
| Title | Year | Status | Character |
| --- | --- | --- | --- |
| Monty Python: Almost the Truth - The Lawyer's Cut | 2009 | TV Mini-Series | Himself |
| Woodstock: Now & Then | 2009 | TV Movie documentary | Himself |
| Biography | 2008 | TV Series documentary | Himself |
| Classic Rock Drum Solos | 2007 | Video documentary | Himself |
| Amazing Journey: The Story of The Who | 2007 | Documentary | Himself |
| Final 24 | 2007 | TV Series documentary | Himself |
| The Who: Music in Review - The Moon Years | 2006 | Video documentary | |
| Wingspan | 2001 | TV Movie documentary | Himself |
| Hellraisers | 2000 | TV Movie documentary | Himself |
| Behind the Music | 1998 | TV Series documentary | Himself |
| VH1 Legends | 1997 | TV Series documentary | Himself (The Who) |
| The Beatles Anthology | 1996 | TV Mini-Series documentary | Himself |
| The History of Rock 'n' Roll | 1995 | TV Series documentary | Himself (The Who) |
| Top of the Pops 2 | 1995 | TV Series | Himself |
| The Who: Thirty Years of Maximum R&B | 1994 | TV Movie documentary | Himself |
| Ein Leben als Extravaganza - Das Genie Frank Zappa | 1993 | TV Movie documentary | Himself |
| X-Large | 1989 | TV Series documentary | Himself |
| The True Story of Frank Zappa's 200 Motels | 1988 | Video documentary | Himself |
| Rolling Stone Presents Twenty Years of Rock & Roll | 1987 | TV Movie documentary | Himself |
| Rock 'N' Roll Goldmine: The Sixties | 1986 | Documentary short | Himself (The Who) |
| Ready Steady Go, Volume 2 | 1985 | Documentary | Himself (The Who) |
| Video from Hell | 1985 | Video | Himself |
| Ready Steady Go, Volume 1 | 1983 | Documentary | Himself (as The Who) |
| Top of the Pops | 1978 | TV Series | Himself - Member: The Who |
| 2nd House | 1974 | TV Series | Himself - The Who |
| Beat-Club | 1966-1967 | TV Series | Himself - Musician |
| Eat That Question: Frank Zappa in His Own Words | 2016 | Documentary | The Hot Nun |
| The Beatles: 1 | 2015 | Video | Himself (segment "All You Need Is Love") (uncredited) |
| Get All That, Ant? | 2015 | Documentary | |
| It's Only Rock 'n' Roll: Rock 'n' Roll at the BBC | 2015 | TV Movie | Himself (as The Who) |
| Pop Gold | 2015 | TV Mini-Series | Himself |
| The Sixties | 2014 | TV Mini-Series documentary | Himself |
| The Who: The Making of Tommy | 2013 | TV Movie documentary | Himself |
| Quadrophenia: Can You See the Real Me? | 2013 | TV Movie documentary | Himself |
| The Who: Quadrophenia - The Complete Story | 2012 | | Himself - Drummer |
| Pearl Jam Twenty | 2011 | Documentary | Himself (uncredited) |
| When Rock Goes Acoustic | 2011 | TV Movie documentary | Himself |
| Let's Spend the Night Together | 2010 | Documentary | Himself |