Emma Caulfield Net Worth is

$4 Million
Emma Caulfield Biography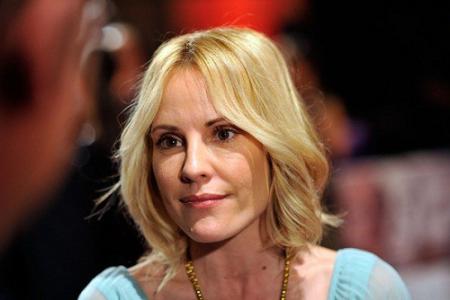 Emma wedded Cornelius Grobbelaar in 2006 but filed for divorce this year 2010. Caulfield was created Emma M., TiMER, Confined, Back the Day, and Informing of the Shoes. She actually is most widely known for playing Anya Jenkins on Buffy the Vampire Slayer and Susan Keats on Beverly Hills, 90210. Her first big function emerged as Susan Keats on Beverly Hills, 90210 from 1995 to 1996. She initial made an appearance in episodes of Burke's Rules, Saved by the Bell: THE BRAND NEW Course, Renegade, and Weird Research. From 1996 to 1997 she starred as Lorraine Miller on General Medical center. Emma's best known function emerged as Anya on the WB series Buffy the Vampire Slayer from 1998 to 2003. Her first movie function came as the business lead in the 2003 horror film Darkness Falls. This year 2010 and 2011 Caulfield starred in it series Gigantic, Bandwagon: The Series, and Life Unforeseen. She's also starred in the movies Bandwagon, A Valentine Carol, Why Am I Doing This? Chukker in NORTH PARK, California in April 1973. Caulfield has earned awards from the Academy of Research Fiction, Fantasy & Horror Movies (USA), Beverly Hills Film Event, and Sydney Film Event. She has been nominated for a Satellite television Award.Emma Caulfield Net Worthy of: Emma Caulfield can be an American celebrity who includes a net worth of $4 million dollars.
Known for movies
Quick Facts
| | |
| --- | --- |
| Full Name | Emma Caulfield |
| Net Worth | $4 Million |
| Date Of Birth | April 8, 1973 |
| Height | 1.65 m |
| Profession | Television producer, Actor, Vlogger, Set decorator |
| Education | San Francisco State University, La Jolla Country Day School, American School in England |
| Nationality | American |
| Spouse | Cornelius Grobbelaar |
| Parents | Rodney Chukker, Denise Caulfield |
| Twitter | http://www.twitter.com/emmacaulfield |
| Instagram | http://www.instagram.com/emmacaulfieldofficial |
| Nominations | Satellite Award for Best Supporting Actress - Drama Series |
| Movies | Chance, Darkness Falls, I Want to Marry Ryan Banks, Why Am I Doing This?, Timer, Removal, Confined, Telling of the Shoes, Back in the Day, America Is Still the Place |
| TV Shows | Gigantic, Life Unexpected, Buffy the Vampire Slayer, General Hospital, Bandwagon |

Interesting Facts
| # | Fact |
| --- | --- |
| 1 | Is in a relationship with Mark Leslie Ford. |
| 2 | (March 24, 2016) Expecting her 1st child, a daughter, with her boyfriend Mark Leslie Ford. |
| 3 | Her portrayal of DC Comics character Cameron Chase on Supergirl (2015) is the live action debut of the character. |
| 4 | She has Luxembourgian (from her paternal grandmother), German, English, and Portuguese ancestry. |
| 5 | Filed for divorce from her husband Cornelius Grobbelaar after 3 years of marriage [May 13, 2010]. |
| 6 | She was number 86 in a list of the worlds 100 sexiest women in 2002. |
| 7 | Is good friends with and keeps in touch with Buffy the Vampire Slayer (1997) cast mates Alyson Hannigan, Anthony Head, Seth Green and Tom Lenk. |
| 8 | Attended the wedding of Alyson Hannigan and Alexis Denisof. |
| 9 | On the 6th season Buffy the Vampire Slayer (1997) DVD, Joss Whedon says that her singing and dancing talents in the musical episode "Once More With Feeling" most surprised him over everyone else's talents in the cast. He gave Emma an additional singing number later in the series. |
| 10 | 26 May 2001 - Attended a two-day Armaggedon Buffy the Vampire Slayer (1997) event with co-star James Marsters in Auckland, New Zealand |
| 11 | She is good friends with fellow thespian Karri Bowman. |
| 12 | She was number 98 in a list of the worlds 100 sexiest women in 2003. |
| 13 | Her mother was a professional singer. |
| 14 | Attended San Francisco State University. |

Quotes
#
Quote
1
[on Anya's death in "Chosen," the series finale of "Buffy the Vampire Slayer"] [Anya's death] was so abrupt and so sad. But I think that it made the whole journey that much more poignant that she did die that way. She didn't get a big maudlin send-off, it was just quick and to the point -- very Anya in that respect.
2
[on her character of Anya in "Buffy the Vampire Slayer"] Anya was one of the most effortless jobs, but also the most challenging because she had so many layers. I was constantly walking a fine line in order to keep her real and funny.
3
[on Buffy the Vampire Slayer] That was a period of my life that I am grateful to have had and it helped shape me in many ways. But it's over and anything creative that I had to give I gave it then.
4
My favorite role is not one I did on a show; I played a woman named Oona in a film called Timer, which was released earlier this year [2009]. I loved the character and everything about the film. Of everything I've done, that's the one I'm most proud of.
5
[H]aving been on "Buffy" for many years I cannot escape the "bunny thing," it's ridiculous. I think it was maybe four episodes where it was referenced and now I'm synonymous with this bunny. For the record, no, I don't hate them - it was just my character.
6
I don't think I will ever get to play a character like Anya ever again. It was such a cultural phenomenon, and so well written.
7
[about the character she played in Darkness Falls (2003)] She's the complete opposite of Anya. She's a sexually repressed, small-town schoolteacher

with a bombshell body, but you wouldn't know it because she hides it

with layers. It's symptomatic of what's going on in her life. [February 2, 2003]
8
[about her last day on the Buffy the Vampire Slayer (1997) set:] It was that sense that everything is coming to an end, like high school when you're about to graduate -- you really start taking notice of everyone, and noticing your surroundings. Especially when they start destroying sets that are no longer in use. Like, 'Oh my God, that used to be Xander's apartment, now it's just floors and a wall!' The last day, I really didn't think I was gonna cry at all. But as soon as they said: 'That's a show wrap for Emma Caulfield!', I cried. I cried once, and that was it. I woke up the next morning like, 'OK, what's next?'" [May 21, 2003]
9
[asked to name her most prized possession:] My cats. Bjorn and Brian Dennehy. They're Abyssinian. They're amazing, they're really like dogs. I actually went to a psychic once, and she said, 'You have two cats.' And I said, 'Yes, I do.' And she said, 'Yeah, there's one in particular, he's brown, he's a deep thinker, that cat.' So every time I see Bjorn staring into the fire, I'm like, 'Are you having deep thoughts, Bjorn?'" [February 2, 2003]
10
I was in London during my first sci-fi convention for Buffy the Vampire Slayer (1997) and I was at the local bar, having a drink, writing in my journal, and this woman came up to me and said, "Do you want a drink? I said, "No, thank you. She pushed it a couple of times, and each time I said, "No, really I'm fine. Then she turned really cold, looked at me and said, "Someday these conventions will be your only outlet. I was like, wow, thanks, peace out, OK. [February 2, 2003]
11
I'm a ridiculous sci-fi fan. In fact, I admit it freely; my manager is horrified. I just recently bought seasons two through five of Star Trek: The Next Generation (1987) on DVD. And I've watched all the episodes, half on the plane and a few of them as I was going to sleep last night. There's something about sci-fi that's comforting. [February 2, 2003]
12
I don't know that I want to act 15 years from now. I mean, I love the process of acting, but not the masochism. No matter how successful you get in Hollywood, you cannot rest. Your new movie doesn't open well; they're looking for the next person to replace you; it's always something. You never have true peace.

Pictures
Won Awards
Won awards
| Year | Award | Ceremony | Nomination | Movie | Award shared with |
| --- | --- | --- | --- | --- | --- |
| 2012 | ISA | Indie Series Awards | Best Actress (Comedy) | Bandwagon (2004) | |
| 2007 | Jury Award | Beverly Hills Film Festival | Best Actress - Short Film | Hollow (2007) | |
| 2007 | Audience Award | Sydney Film Festival | Performance by an Actress in a Leading Role | Hollow (2007) | |
| 2003 | Cinescape Genre Face of the Future Award | Academy of Science Fiction, Fantasy & Horror Films, USA | Female | Darkness Falls (2003) | |
Nominated Awards
Nominated awards
| Year | Award | Ceremony | Nomination | Movie | Award shared with |
| --- | --- | --- | --- | --- | --- |
| 2016 | ISA | Indie Series Awards | Best Guest Actress - Comedy | HOARS (Home Owner Association Regency Supreme) (2015) | |
| 2003 | Golden Satellite Award | Satellite Awards | Best Actress in a Supporting Role in a Series, Drama | Buffy the Vampire Slayer (1997) | |

Filmography
Actress
| Title | Year | Status | Character |
| --- | --- | --- | --- |
| Fantasy Hospital | 2016 | TV Series | Nurse Misty Windham |
| Once Upon a Time | 2012-2016 | TV Series | Blind Witch |
| Supergirl | 2016 | TV Series | Cameron Chase |
| HOARS (Home Owner Association Regency Supreme) | 2015 | TV Series | Myal Abia |
| America Is Still the Place | 2015 | | Fran |
| Telling of the Shoes | 2014 | | Alexandra |
| Back in the Day | 2014 | | Molly |
| Don't Panic It's Organic | 2013 | Short | |
| Royal Pains | 2012 | TV Series | Winnie |
| Husbands | 2012 | TV Series | Stadium Interviewer |
| Leap Year | 2012 | TV Series | Smiley |
| Leverage | 2011 | TV Series | Meredith |
| Prime Suspect | 2011 | TV Series | Montana Ride |
| Pretty the Series | 2011 | TV Series | Emma |
| Life Unexpected | 2010-2011 | TV Series | Emma Bradshaw |
| Bandwagon: The Series | 2010-2011 | TV Series | Emma |
| Gigantic | 2010-2011 | TV Series | Sasha |
| Removal | 2010 | | Jennifer Kershe |
| Confined | 2010/I | | Victoria Peyton |
| TiMER | 2009 | | Oona O'Leary |
| Why Am I Doing This? | 2009 | | Amber |
| Private Practice | 2009 | TV Series | Leanne Thompson |
| Robot Chicken | 2006-2007 | TV Series | Jadis the White Witch Wife Professor McGonagall ... |
| A Valentine Carol | 2007 | TV Movie | Ally Simms |
| Hollow | 2007 | Short | Sarah |
| In Her Mother's Footsteps | 2006 | TV Movie | Kate Nolan |
| Monk | 2004 | TV Series | Meredith Preminger |
| I Want to Marry Ryan Banks | 2004 | TV Movie | Charlie Norton |
| Buffy the Vampire Slayer | 1998-2003 | TV Series | Anya |
| Darkness Falls | 2003 | | Caitlin Greene |
| Chance | 2002 | | Heidi (scenes deleted) |
| Nash Bridges | 1998 | TV Series | Reporter |
| Silk Stalkings | 1995-1997 | TV Series | Kate Donner / Ray Washburn |
| General Hospital | 1996-1997 | TV Series | Lorraine Miller |
| Beverly Hills, 90210 | 1995-1996 | TV Series | Susan Keats |
| Weird Science | 1995 | TV Series | Phoebe Hale |
| Renegade | 1994 | TV Series | Cindy Moran |
| Saved by the Bell: The New Class | 1994 | TV Series | Nurse Penny Brady |
| Burke's Law | 1994 | TV Series | Beth |
Producer
| Title | Year | Status | Character |
| --- | --- | --- | --- |
| Stray | 2015/II | Short executive producer | |
| Don't Panic It's Organic | 2013 | Short executive producer | |
| Bandwagon: The Series | | TV Series co-executive producer - 14 episodes, 2010 - 2011 executive producer - 1 episode, 2011 | |
| Bandwagon | 2004 | Documentary co-executive producer | |
Soundtrack
| Title | Year | Status | Character |
| --- | --- | --- | --- |
| Bandwagon | 2004 | Documentary performer: "Stardust" | |
| Buffy the Vampire Slayer | 2001-2002 | TV Series performer - 2 episodes | |
Writer
| Title | Year | Status | Character |
| --- | --- | --- | --- |
| Don't Panic It's Organic | 2013 | Short | |
| Bandwagon: The Series | 2010 | TV Series creator | |
Costume Designer
| Title | Year | Status | Character |
| --- | --- | --- | --- |
| Don't Panic It's Organic | 2013 | Short | |
Set Decorator
| Title | Year | Status | Character |
| --- | --- | --- | --- |
| Stray | 2015/II | Short | |
Self
| Title | Year | Status | Character |
| --- | --- | --- | --- |
| The Love Me Cat Show | 2013-2014 | TV Series | Herself |
| TableTop | 2014 | TV Series | Herself - Guest |
| '05: How Was It for You? | 2005 | TV Movie documentary | Herself |
| Bandwagon | 2004 | Documentary | Emma Caulfield |
| RI:SE | 2003 | TV Series | Herself |
| Total Request Live | 2003 | TV Series | Herself |
| Biography | 2003 | TV Series documentary | Herself |
| The Making of 'Darkness Falls' | 2003 | Video documentary short | Herself |
| TV's Most Memorable Weddings | 2003 | TV Movie documentary | Herself |
| Howard Stern | 2003 | TV Series | Herself |
| The Test | 2001 | TV Series | Herself - Panelist |
Archive Footage
| Title | Year | Status | Character |
| --- | --- | --- | --- |
| Timeshift | 2006 | TV Series documentary | Anya |